Waterproofing basements and cellars
The presence of an external water source such as a high water table, adjacent river, poorly drained soil etc. can result in water penetrating through structures below ground.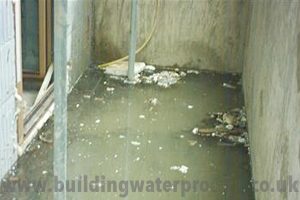 If water is penetrating through walls floors, AQUA-STOP is a good choice as it's easy to use and economic. AQUA-STOP will resist water under pressure in most domestic and industrial basement and cellar waterproofing applications. The formation and development of crystals in the pores, effectively blocks the further passage of water and ensures permanent water tightness for the life of the structure.
AQUA-STOP is easy to apply, just paint it on as a slurry, where it will penetrate deep into the wall to prevent the further ingress of water through the wall.
During the subsequent 3 day curing period, the AQUA-STOP must be kept damp to allow the crystals to penetrate and grow in the pores of the building material. Two coats of AQUA-STOP is sufficient to stop moisture penetration in most basement and cellar waterproofing applications.
AQUA-STOP is suitable for:
Old or new, structurally sound, poured concrete
Brick and block walls
Concrete floors
It provides a solution to water leakage, ingress or seepage in concrete or cement-bonded structures.
Water under pressure
Penetrating water from an external source may well have sufficient pressure to force the AQUA-STOP off before it has sufficient strength to resist water pressure.
SUPER-STOP is an ultra fast setting cement which sets immediately when exposed to water. Can be applied to concrete, masonry or stone to plug and stop active water leaks in less than 30 seconds!
SUPER-STOP can be applied in dry form to active leaks and it will mix with the incoming water to stop the leak. Alternatively it can be mixed with a small amount of water and held in place over the leak until the material sets (10-30 seconds).
SUPER-STOP features:
Stops leaks in less than 30 seconds
Safe and easy to use – no mixing required in most cases
Can be applied to damp and wet surfaces
Can be applied to positive or negative water pressure side
No odor or fumes
Useful links
AQUA-STOP internal waterproofer