Stopping rising damp
Rising damp affects the walls of buildings when ground moisture travels up the wall by capillary action. The water is sucked up like a sponge by the bricks and the water contains salts that can also travel up the wall. So what's the answer? How can you stop the upward movement of the water? A damp proof course is needed but how can you retro-fit it? DPC Injection Cream is what you need – it is easy to install without the need for specialist equipment or professional help.All you do is drill 12mm holes every 100 mm along the line to be injected and clearing out the dust prior to injection.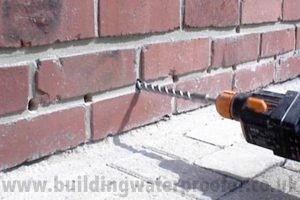 Injection of the DPC Injection Cream can be done with either a mastic injection gun, or with a modified garden sprayer (cut off the spray tip).
The product has a 30 Year Guarantee available subject to conditions. Please contact us for further information.