Waterproofing walls of brick, stone and other masonry
Water penetration through walls is bad for your house and for you! Waterproofing walls externally can be easy and simple. Most conventional building materials are absorbent, and therefore when exposed to persistent rain, can become saturated. This often results in dampness occurring on the inside of the property. Damp walls not only ruin interior decorations, but they are cold, and the presence of moisture encourages mould growth which is a health hazard.Waterproofing walls with AQUA-REPEL will prevent further moisture penetration whilst still allowing residual moisture to escape by evaporation. As the waterproof walls dry, algae and fungal deposits will become inert, and can be removed. Waterproofing walls eradicates the presence of water in the wall, and insulating properties will improve.
Externally, moisture at the surface encourages the growth of Moss and Algae, the roots of which damages the fabric of the structure. In addition, moisture in the surface makes it vulnerable to frost damage. Waterproofing walls can prevent this.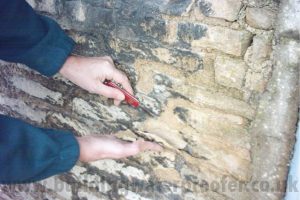 The solution! – AQUA-REPEL water repellent impregnation for waterproofing walls.AQUA-REPEL applied to the outside of the wall will prevent water penetration, whilst allowing any existing moisture in the wall to escape by evaporation.If algae is present, before applying Aqua-Repel for waterproofing walls, the walls should be treated with Eco-Chem Multi-Surface Algae Remover and thoroughly cleaned
Waterproofing previously painted walls
Waterproofing walls that have been previously painted can be achieved in 2 ways:
Masonry coatings in good condition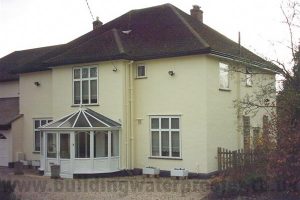 Some existing masonry coatings may appear to be in good condition but are letting in water. Waterproofing walls like this is easily done by the application of DO-IT-ALL Clear Acrylic Sealant. For best results, DO-IT-ALL should be applied by low pressure garden sprayer such as the one shown below:DO-IT-ALL is not only ideal for sealing and waterproofing walls (2 coats recommended), but is also the perfect preparation for subsequent applications of masonry paint.
Waterproof masonry paint for deteriorated masonry walls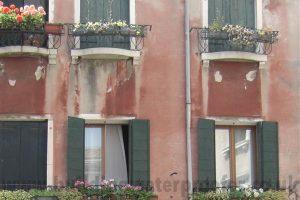 Deteriorated paint coatings can be replaced with waterproof coatings that are also elastic, crack -bridging and longer lasting for waterproofing walls. Applied more thickly than conventional masonry coatings, Murfill Waterproofing Paint for waterproofing walls is a high build water based acrylic paint that can be applied by brush, roller or spray.Previously unpainted absorbent surfaces require priming with Primer 44Murfill Waterproofing Paint can be supplied in any colour and is mixed to order. Please contact us for more information regarding colours.
Products for Exterior Waterproofing