Curing rising damp in external and internal walls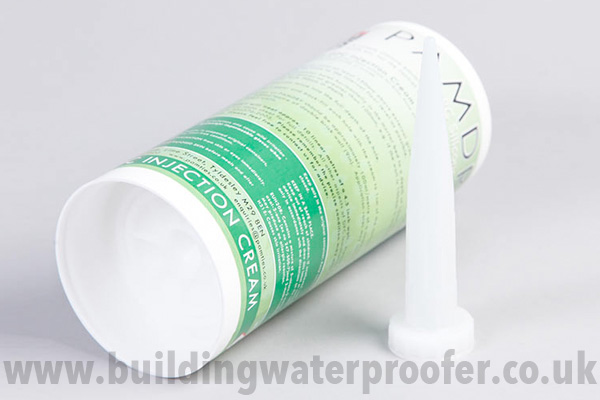 If you have problems with rising damp then we have the products which can help you cure them.
Preparation
A basic starting point is to make sure you clean, repair or install drains to carry away any surface water that might affect your property – the water has to go somewhere so good drainage will help get rid of water which may cause damp.
If your interior floors are below the ground level outside you may need to form trenches along the external face of the walls. If so make them at least 150mm below the damp proof course level where possible. If you can't achieve that level you can raise the height of the DPC to 150mm above the exterior ground level. Tank your interior walls below the course to prevent moisture coming in and salts appearing.
Remove any skirtings, render/plaster and fixings to expose the line of the proposed DPC. Interior plaster which may be contaminated with hygroscopic salts, should be cut back by a minimum of 1 metre above the DPC line or 300mm above the highest signs of the dampness or salts.
Check your flooring timber for any signs of fungal decay and recommend repair or replacement as appropriate. Ensure that all wall cavities are cleared of waste.
Our range of PAMDry DPC injection cream and kits are excellent at stopping capillary action rising damp in its tracks. Our advanced hybrid siloxane DPC cream is considered one of the best on the market.
The PAMDry injection cream kits are excellent value for money and contain everything you need to carry out a professional job from start to finish.
We stock three different sizes of DPC packs
310ml cartridge – these fit in a standard 'silicone type' skeleton gun and are perfect for DIYers or small areas of capillary action rising damp. Each tube will provide an effective damp proof course of 3 linear metres in a 4 1/2″ wall. Buy it now…
1 ltr Jumbo cartridge – our 1 ltr cartridges fit in our PAM jumbo gun and are ideal for larger jobs or dampproofing professionals. Each tube will provide an effective dampproof course in 10 linear metres in a 4 1/2″ single skin wall. Buy it now…
5 ltr PAMDry box – The professionals or serious DIYers choice. Our 5 ltr boxes are the most economical way to buy our popular PAMDry DPC injection cream. They require a DPC injection pump for use and are available in kit form with everything you need. Buy it now…
All our DPC injection cream sizes are available in kit form containing everything you need to carry out a professional job.
These kits and creams are the choice of DIYers and professionals alike and are excellent value for money.