Typical scenario: It starts to rain heavily and you look up and see rain pouring through the joints in your gutters. How are you going to fix it?
If you see that your gutters are leaking from the joints or seams they can do untold damage to your walls and masonry. Gutters and downpipes are an essential element in protecting walls from damp, so it's important to tackle the job quickly to avoid causing further expensive damp and waterproofing problems.
Firstly, you'll need to inspect your gutters more closely for blockages and unblock them. Downpipes usually get blocked at the top and pushed further down the pipe by rain water. Backed up water from your downpipes can sit in your guttering and possibly overflow causing the appearance of leaking. Unblocking them might actually solve your problem.
Parts of a guttering system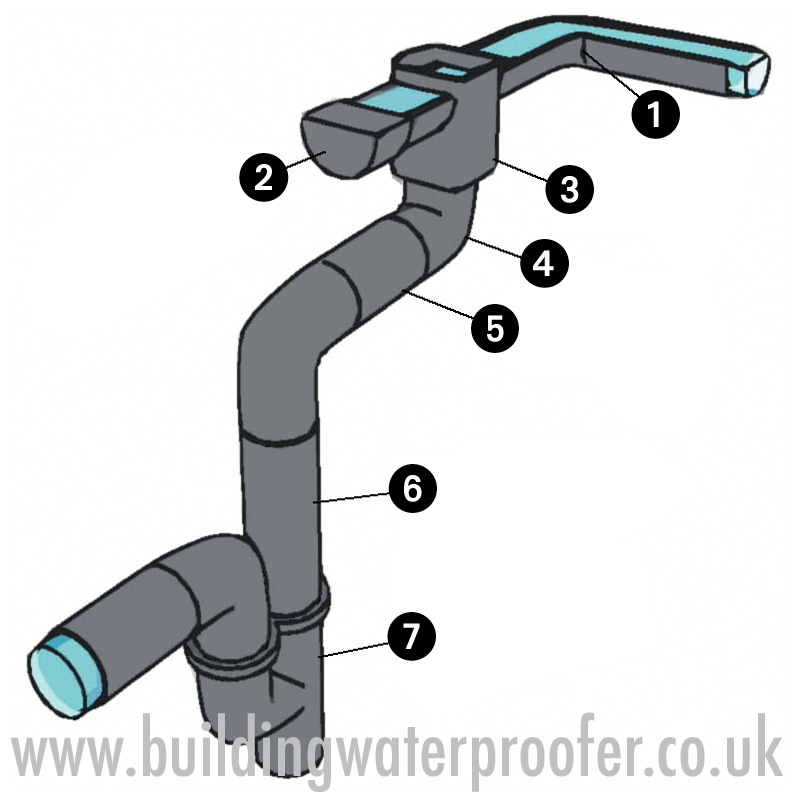 Rainwater gutter
Endcap
Hopper
112° bend
Downpipe
Manifold
Just so you know what we're talking about!
Avoiding further gutter blockages
Leaves can quickly obstruct a gutter so it's sensible to protect your gutters and downpipes from them if you have a lot of deciduous trees near your building. Mesh wire balls are available in various sizes to protect your downpipes, just make sure you check the diameter of your downpipe before purchasing.
If you have a particular problem with leaves in your gutters then plastic gutter mesh, gutter guards, gutter guard brushes etc are available to prevent blockage from leaves into PVC gutters, allowing rainwater to flow unrestricted for optimum gutter performance.
Fixing gutter leaks
Once you've checked and cleared any blockages and cleaned out your gutters, let them dry and check for obvious holes and cracks.
Gutter waterproofer products include liquid rubber type paint for sealing leaking metal or iron gutters. It's also used for patching leaks in roofs, repairing cracks on parapet walls, flashings and sealing around skylights, rooftop air conditioners, and rooftop pipe work. If the cracks are large a fibrous version of the paint with crack bridging fibres in the paint to help bridge the gap.
Many different types of materials are used to make guttering: cast iron, asbestos cement, plastic UPVC (PVCu), cast and extruded aluminium, galvanised steel, copper and zinc.
UK plastic guttering brands include Polypipe, Hepworth, Osma, Hunter, Marley, Brett and Marshall Tufflex if you are looking to replace.
Common gutter profiles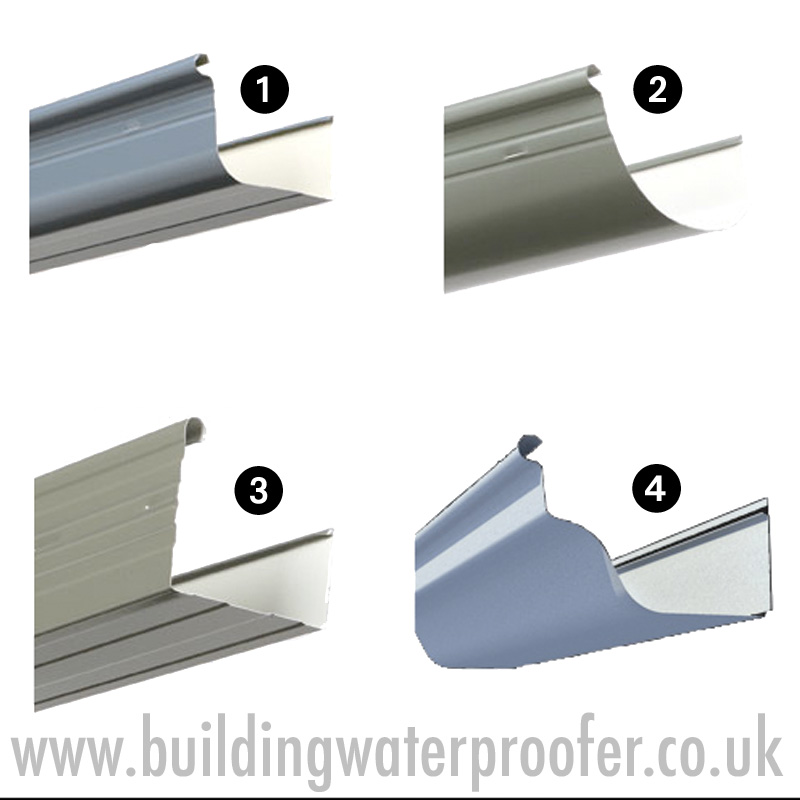 Quad
Round
Square
O-Gee
Leaking Gutter Repair Products